Springboard Charity Bauble
28 August 2019 | Admin
Home > Blog > Springboard Charity Bauble
Baubles are not just for Christmas!
Bath Aqua Glass blow a bauble for Springboard (order here)...
Springboard Chippenham is excited to announce a unique partnership with Bath Aqua Glass based in Bath.
Individually blown baubles in the new Springboard colour have been launched as a new fundraising initiative. The baubles are unique as they are all hand blown. They are ribbed to help children with visual impairment recognise them and to be a part of the wonderful family tradition of dressing the tree at Christmas. Each Springboard Bauble that is sold will raise funds towards the £140k fundraising target needed each year by Springboard Chippenham.
Springboard Baubles will be available from Bath Aqua Glass shops, here on www.bathaquaglass.com, Springboard Chippenham and at various Springboard Winter events.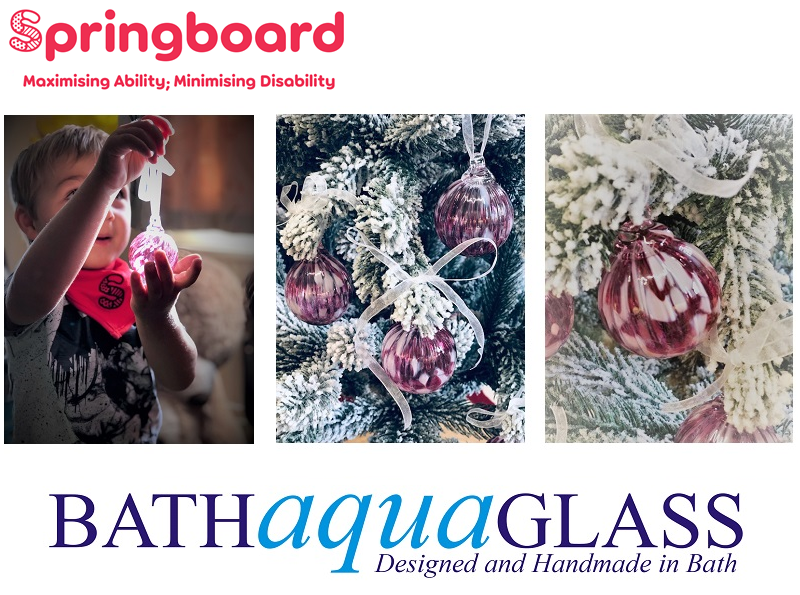 The partnership doesn't end there. Springboard Chippenham is launching a major campaign at the beginning of September. Angelique, daughter of Annette and Adrian Dolan proprietors of Bath Aqua Glass, has written and produced a song that will go out with a short film portraying a window to the world of Springboard Chippenham.
> See the video below or on Springboard's website (click here)
One of the stars of this short film is Jacob. Jacob was diagnosed with a brain tumour at the age of one and he left Springboard this month to go to 'big' school. David, Jacob's father who has been a big part of Springboard the last 3 years will now be working at Bath Aqua Glass so keeping this wonderful link alive!
Annette Dolan, Managing Director of Bath Aqua Glass said:
"We at Bath Aqua are so happy to support such an amazing project. Encouraging the children to champion their achievements at Springboard is one of their greatest gifts to the children. We will blow the baubles with even more love for Springboard!"
Jane Boulton, Manager of Springboard added:
"We are so grateful to Bath Aqua Glass for supporting us through this unique fundraising activity. Just like the baubles, the children themselves are unique in every way. The support helps us to continue the work we have been doing for generations of families. Young children with a disability or learning difficulty deserve the best that we can offer. The staff are dedicated to promoting the children's development whilst supporting the parents through often difficult and emotional times. Jacob's story is a great example of believing in every child's ability. With help from Bath Aqua Glass we will have more children creating more great stories."