Meet The Team
Annette Dolan- Managing Director
Annette started the business in 1996. She was born in Bristol and grew up in London. Completely dyslexic, Annette has written a book on a Dyslexia to encourage others. Annette is passionate about her business and is proud that she and her team have driven an Art based business to success. Our practice is teamwork we are all proud of the products we produce. If you look at our website you will see the artistic talent of Annette and her team. Annette has a penchant for writing and has also written Santa Aqua and the Elves of Walcotia. She is a stained glass artist and designed and fitted a window in Pruno a Corsican village near Bastia, where her daughter got married. She is FD and head of marketing.
We as a business meet every Wednesday for a management meeting. Quote from Annette, "I am proud to work with such a talented and fantastic team, we have our ups and downs, but we encourage openness and honesty in the workforce. I started from humble beginnings and value what I have achieved. It has not been easy working so many hours. I feel in life you get what you put out. We will continue to work hard and strive for a happy team great hand made products. I feel we are one of the army of small businesses who support the country by the taxes we pay. Independent businesses should be valued by any government as collectively are the backbone of this country."

Themis Mikellides - Managing Director & Stained Glass Artist
Artist, musician, lover of life, good food, family and sunshine. He looks forward to talking to you about any architectural and stained glass ideas that you may have.
My approach to glass is intuitive, fuelled by a continual fascination of the relationship between coloured light, space and the architecture that it is part of. As an artistic medium I find stained glass truly inspiring. With its origins rooted in the sacred geometry of our ancient past, it continues to embrace our need for colour, in many of our modern architectural settings. For me, it is all about using the very nature of glass that gives me the creative freedom to create something beautiful. A living art that makes me feel alive!
A tireless and enthusiastic artist that has become renowned over the years for his architectural and stained glass works. Over a twenty year span he has created a style of working termed 'natural ambiguous imagery'. This combines his artistic and photographic investigations of the natural world to create original designs that are both true to the ethos of the arts and crafts and have readily become 'modern classics.' These windows are manufactured to the highest standards of master craftsmanship using mouth blown sheet glass (roundels blown to order), and traditional lead work. Enhanced works can also include glass painting, fusing, etching and photographic screen printing- budget allowing.
From an early age Themis has been inspired by his father, Byron Mikellides, an Oxford Don Professor and an international pioneer in the field of Architectural Psychology. This exposure to the world of architectural psychology, and the international colour conferences attended, has given him an intuitive and scientific background to his use of colour in his architectural stained glass practise. After attending an art foundation course in North Oxfordshire, he was accepted at the internationally renowned Architectural Glass College at Swansea. Twenty years on, a revisit to the now known Swansea Glass College, sees him enrolled on an MA in Glass, where he is currently pursuing the marriage of art and technology.
During the course of his artistic career his commissioned works include pieces for Public Art Projects in municipality buildings, schools & hospitals, reflective windows for worship, domestic sites including conservatories, and gallery orientated wall art. Themis is frequently commissioned for public and private works both in England and abroad. Recent international commissions range from medieval windows for a private chapel in Port Harcourt, Nigeria to contemporary windows for Washington and Alaska.

Adrian Dolan - Sales Director
A keen family man, Adrian is married to Annette. Dealing with wholesale enquiries and rotating stock, he has been a lynchpin of the Bath Aqua team for many years.
Judith Devereux - Studio Manager
Judith started with us way back in 1999 working on the Christmas market stall in Trowbridge, it was meant to be a temporary job but she was not allowed to leave! She graduated to the Old Orchard workshop in 2001 as workshop general assistant, sales & packing.
Promoted to studio & workshop manager when we moved to Walcot Street, Judith oversees the running of the workshop and glass production as well as dealing with customer and wholesale orders.
The keystone of the studio - she wins 'Employee of the Year' on an annual basis.
Elaine Westcott - Shop Manager
The Backbone of our flagship store, Elaine is our product range expert and capable of answering all your enquiries.
Ian Shearman - Head Glass Blower
Ian started out in 2003 working as an apprentice at Bristol Blue Glass where we worked for 4 years learning the craft from scratch. He joined Bath Aqua Glass in 2007 and has been entertaining us with his singing and dancing whilst glassblowing ever since. In 2008 Ian spent 6 months working for various glass artists in Australia, a valuable experience that taught him a variety of new techniques to further enhance his master skillset.

David Carr - Hot Floor Manager & Glassblower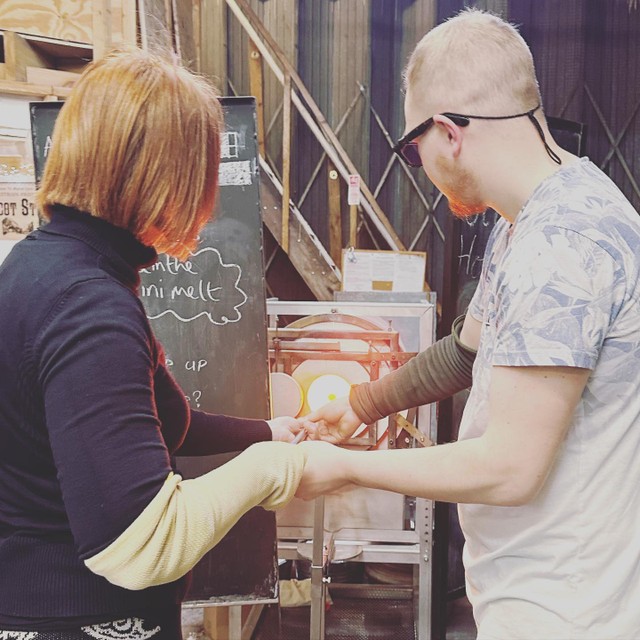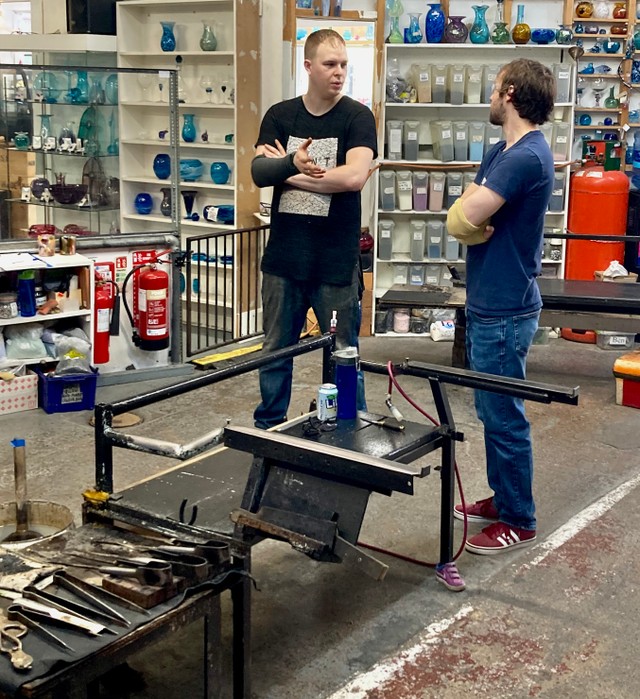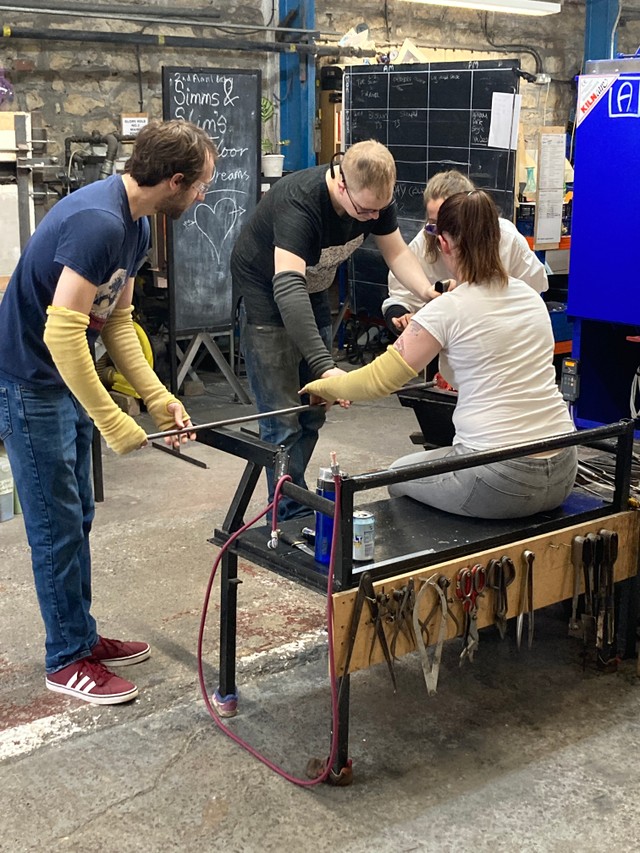 Elizabeth Simms - Glassblower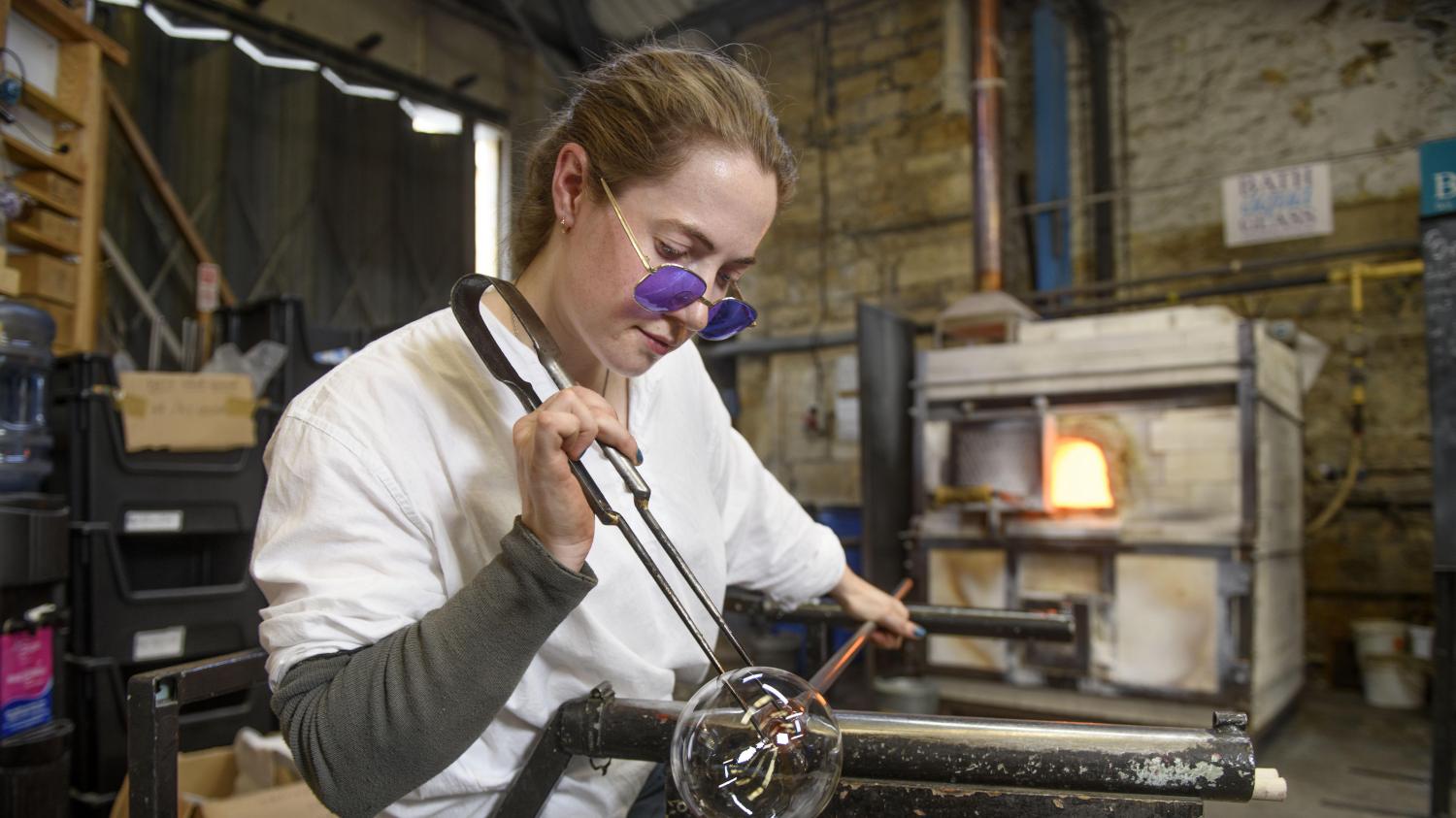 Carly McKeever - Marketing Manager
Thomas Skelton - Cafe By The Furnace Manager
Jamis Broad - Walcot Sales Assistant
Julian Frayling- Posting Operative
Charles Home - Book Keeper