Bath Aqua Glass Trophies and Awards
Bath Aqua Glass offers a bespoke corporate glassware service.
Ideal for corporate giftware, personalised glass trophies and custom awards such as long-service accolades, employee hallmarks and recognition awards. Our team create beautiful products that you and your team deserve.
Our glass blowers will produce a wonderfully crafted glass piece which can be made-to-order or taken from existing design templates. Larger requests for multiple awards or repeat orders are available to cater for bigger groups or teams. A full engraving service is also available.

Centrally located in the artisan quarter of Walcot St, in the beautiful and historic city of Bath (Southwest England), our Theatre of Glass factory produces bespoke free-blown glass, using a blowing iron and traditional glassmaking tools. As residents on this rustic and colourful street, we are proud to champion the tradition of bespoke, hand-made glass and to deliver a wide selection of beautiful glassware.
Once blown and modelled into shape, our glass is left in an annealing kiln overnight to cool and solidify.
After this, we will engrave your logo and can colour match your glassware to create an even more personal and professional touch. Previous productions in this range include; playful glass rugby balls, radiant glass light bulbs, and more traditional custom-made glass trophies, plates and awards in ornate glass.
The majority of our glassware is available in a blue aqua shade. This colour is achieved using copper oxide and iron. Aqua Blue is our signature colour and represents health and longevity, reflecting the refreshing qualities that Bath Spa is traditionally known for. In addition to Aqua Blue, we offer an array of colours which are created by adding different colouring oxides.
Corporate Team Building with Glass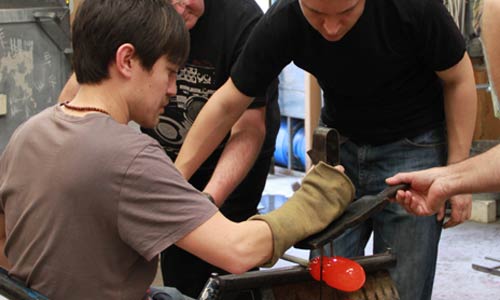 In addition to our corporate glassware range, we also offer group glass blowing activities. These group events are great for team building and morale.
Work as a team and create your very own glass bauble, paperweight and much more!
In our glass bauble classes, you can take home the fruits of your labour once it has cooled overnight - a super souvenir from a great day out!
You can even come and watch your own custom glassware being made. For more information about our bauble blowing or other courses check out our activity page here.
We accept small or large custom orders and offer multi-buy and reorder discounts. For any enquiries or custom requests, please follow the details below in the order form or alternatively please do call us on 01225 319606