Domestic Leaded Glass Commissions
Personalise and add value to your home with an individually designed and hand made contemporary/traditional leaded glass window, lampshade or mirror. Using a design to complement your home and a colour scheme of your choice a space can be completely transformed.
Leaded Glass inspired by Charles Rennie Macintosh
Charles Rennie Macintosh redefined the art of coloured leaded glass with his use of the straight line and broke it up with natural curvature. In a time when Art Nouveau was becoming overly fussy Macintosh redefined the genre making some timeless classics. Macintosh fused his design element using the architecture of the surroundings to create details in glass, stained glass, wood and iron work. His stained glass signature was often the use of an entwining stem with minimalistic use of leaf or floral buds, especially a rose. This symbol is now known as the Macintosh Leaded Glass Rose.
Inspired by the leaded glass of this great man we often make windows that cultivate his design ideals. With large spacious sections, classic use of proportions and small floral details, our Macintosh inspired architectural leaded glass is a popular and appropriate choice for many. If you are interested in having a leaded glass design in our Macintosh style please contact us to discuss the possibilities.
For more information and/or visual images of the coloured glass windows of Charles Rennie Macintosh we recommend typing in 'Macintosh stained glass' into Google images.
Arts and Crafts styled Leaded Glass Panels
The Arts and crafts movement that was prolific at the turn of the last century has been seen by many not only as a medieval revival, but an essential return to the essence and qualities of the traditional stained glass window. With the aid of some of the great thinkers of the day, such as Ruskin and Morris, a revaluation of the true nature of stained glass was considered. Morris's love for the jewel like quality of medieval stained glass, with the marriage of art and craft with the glass and lead making the design, bought us back to using traditional antique coloured mouth blown glass.
Hand blown sheet glass is the purest way to work with colour which is why even in our budget stained glass windows we do not compromise by using anything else, with the exception of restoration panels where it is appropriate to match existing glass.
Our Arts and Crafts styled stained glass is a true celebration of nature, of a design process that incorporates handmade glass and lead. In the current climate where 'stained glass styled' windows are mass manufacture and have no stained glass effects, and furniture is so readily available flat packed, this style of making can be a very beautiful solution to individualise your home.
Natural Ambiguous Designs
This modern style of stained glass incorporates, as its name suggests, an ambiguous and naturalistic approach which some have termed as 'modern classics'. Sometimes inspired by the flow of water or tree branches for lead lines and colour schemes that reflect the seasons, these windows can look fantastic. This 'natural' stained glass look can literally bring the images of nature into your home. With the use of clear reamy glass, gentle pure colours and hand blown roundels this style is particularly suitable for internal domestic windows where the need for light is important. This style of stained glass can incorporate local/personalised images for a truly bespoke hand made window.
Contemporary Glass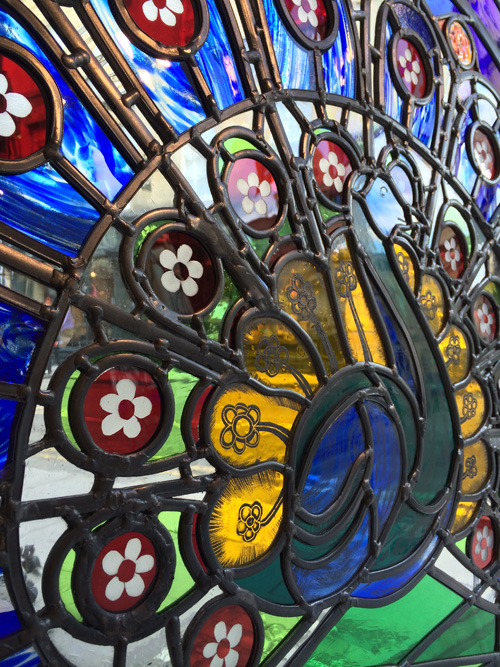 A commission showing different techniques including fusing and glass painting
Fused Glass
Stained glass has been with us now for over a thousand years and history shows us that it has always embraced the technologies of its day. Fusing glass is a relatively new form of stained glass art. The fusing process literally melts one glass piece into another. This allows a piece of art glass to be multi coloured without the use of lead lines.
Modern Cubist Glass
Some window settings have many supportive, wooden framed armatures. Sites such as these could benefit from a cubist style of stained glass, allowing the frames to disappear instead of cutting through a design. The clever use of lead lines and a slightly 'wonky' arrangement of proportioned rectangles can allow the many individual panels of a design become an unbroken stained glass scheme.
Medieval Style Glass
We can make all periods form early to late medieval glass.
Victorian Inspired Stained Glass
We have an extensive collection of original Victorian designs that we can reproduce to order.
Decorative Fan Lights
Personalising a fan light with a bespoke piece of glass is a wonderful way to put your mark onto a property. In the Oriental tradition of feng shui the front door is considered the most important part of your home as it can change the way you feel as you enter. Introducing a colour scheme that incorporates the magical properties of hand blown sheet glass has been documented to really lift a space. Fan lights are a relatively inexpensive way to add stained glass into your home and can start from £350 (depending on square footage).