Memorial Glass Collection - Cremation Ashes Into Glass
Creatively encapsulating your loved one's ashes into timeless glass creations for you to cherish and pass down through the generations.
We handcraft truly bespoke one-off Memorial pieces to honour your loved one's life. Incorporating a small amount of their cremation ashes into a piece of handblown or fused glass which you can treasure forever. We offer this service with respect, love and understanding.
We only use a small amount of ashes per piece therefore we can create mixed / matched sets for the whole family to cherish.
You can place an order via our online shop, by post or in person:
Online - Visit our Memorial Section and follow the directions on the product page, if you have any questions regarding this process please feel free to email or call us to discuss.
Post / Phone - To request a memorial order pack please fill in the form below or call us with your details and we will post you the order forms, a small plastic bag for the ashes and some further information. If you have any concerns regarding your order, you can call us at any point of the process.
In Person - If you would like to discuss your order in person and view samples of our work, please ask for either Judith Devereux at our studio or Jamie Ruther at our shop. To avoid disappointment, please contact us to confirm their availability before travelling.
Individual Commissions - If you have a specific design / colour / size in mind that we do not have listed, please contact us with the details. Please note however, due to the nature of the materials used there are limitations on size and certain designs, nevertheless we are happy to discuss this with you to find the perfect solution.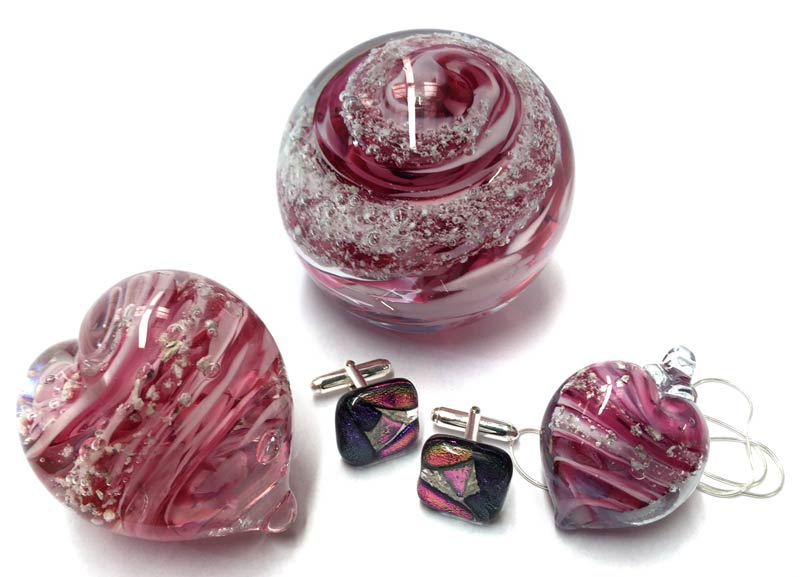 All pieces can be engraved using our in-house engraving service
Free Delivery on all Memorial Pieces
Making Memorial Glass
To create our Molten Memorial Glass range our highly trained glassblowers take molten glass from the furnace, gently add crushed coloured glass and ashes then carefully hand-shape the glass into the desired design.
Each piece is given our full attention and allowed to cool down very slowly in our digitally controlled kilns. This process can be time consuming therefore your order can take a few weeks to process, depending on the colour of glass in the furnace and the number of other orders we have to fulfill. If you have a specific deadline in mind, please contact us to confirm details before ordering.
To create our beautiful Dichroic designs our highly trained jewellery makers cut sheets of high quality glass and then layer these with the ashes and fuse the pieces together in our large kiln located below our shop near Bath Abbey.
Memorial Heart Pendant
Memorial heart pendants or cremation jewellery, incorporating a small amount of cremation ashes swirled into the glass.
Approximately 3cm wide by 4cm long and comes with a 16" sterling silver chain. A choice of 8 colours is available.
Aqua Swirl | Aqua | Cobalt | Cranberry | White | Amethyst | Green | Amber
Handheld Memory Heart
Handheld memory hearts are beautifully sculpted from molten glass with the ashes swirled throughout and cased inside the glass. The handheld memory hearts fit perfectly in the palm of your hand and are comforting to hold as well as looking beautiful when placed somewhere special in your home.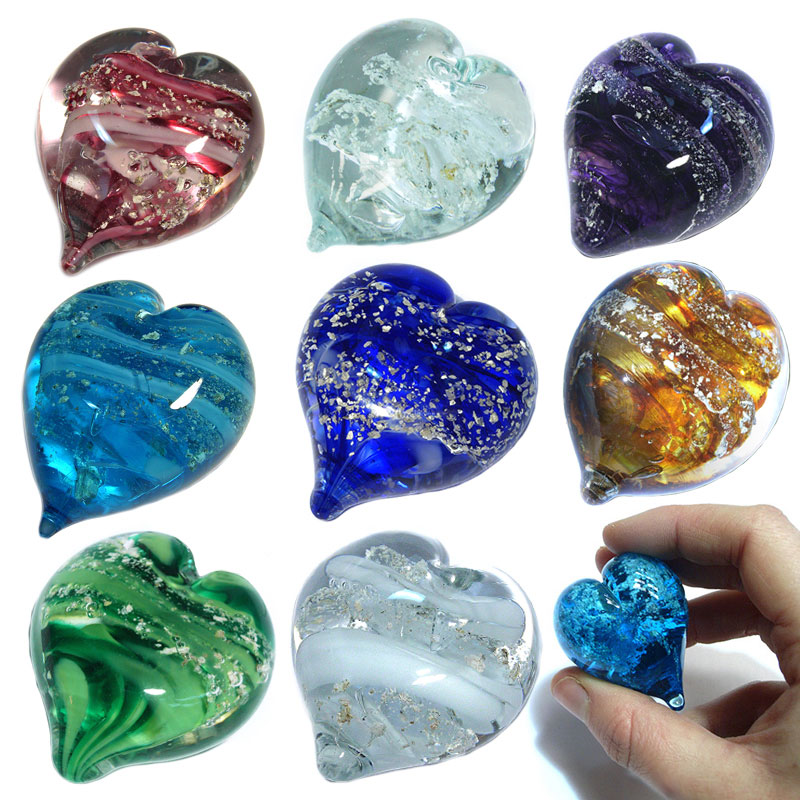 Handheld memory hearts are available in the same choice of 8 colours as shown for the heart pendants above and measure approximately 5cm long.
Memorial Paperweight
Small £70 Click here to order online
Large £155 Click here to order online
Ashes and a dash of colour are carefully swirled deep within a layer of protective glass.
Available in a range of colours and two sizes, we can create mixed or matching sets for your whole family to enjoy.

Small Paperweight approximately 5cm diameter
Large Paperweight approximately 7cm diameter
Memorial Dichroic Jewellery Range
Ashes are encased between layers of fused clear and Dichroic glass, scattered throughout the pattern of the piece.
The Dichroic Range is available in a choice of 9 colours as shown:
Green, Red, Cornflower Blue, Copper, Purple, Aquamarine, Deep Blue, Aqua and Silver/Black








Memorial Glass - Mosaic Cufflinks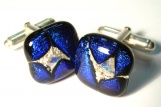 Glass measures approximately 1.5cm across and are mounted on sterling silver. Shown in Deep Blue.
Memorial Glass - Dichroic Diamond Mosaic Pendant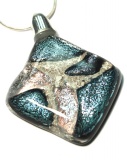 Measures approximately 2.8cm across and comes on a 16" sterling silver chain. Shown in Silver/Black.
Memorial Glass - Triangle Pendant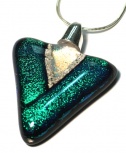 Measures approximately 2.5cm across and comes on a 16" sterling silver chain. Shown in Green.
Memorial Glass - Small Mosaic Pendant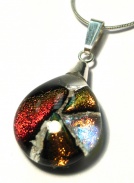 Measures approximately 1.5cm across and comes on a 16" Sterling Silver chain. Sown in copper.
Engraving
For a small additional charge, we can engrave your memorial piece(s) and add a final flourish with a silver, gold or plain finish to the text.
You can choose where the engraving is placed and the typeface, if you would like advice on this service please do not hesitate to contact us.
Due to the size of the pieces, there is a limit to the number of characters/letters per piece:
- Heart pendants, Diamond Dichroic pendants, triangle pendants and handheld memory hearts can have up to 8 characters engraved.
- Paperweights can have up to 30 characters engraved
- Cufflinks can have up to 3 characters engraved per cufflink.
- Dichroic teardrop pendant can have up to 3 characters engraved.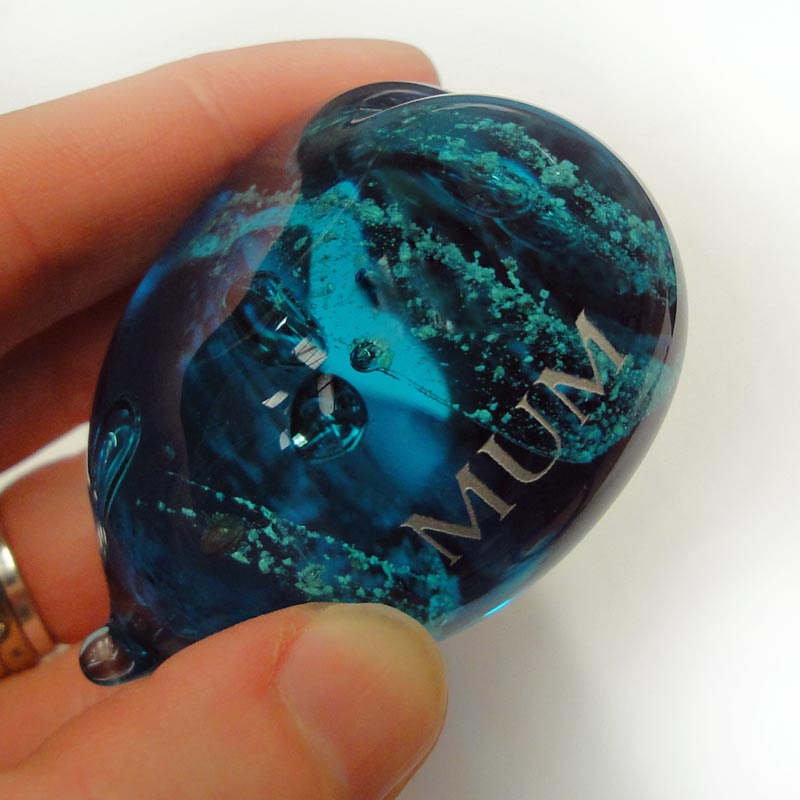 All pieces of memorial glass are individually handmade and unique, images are for guidance only. Please note all our pieces are handmade to order and delivery time will depend on the colour chosen but we aim for all orders to be completed within 6 weeks.
Or if you would prefer to place an order through the post please request an ordering pack by filling in the form below, please state the words 'Memorial Glass Order Pack' on the form and include your postal address or call Judith on 01225 319606 / 428146