Our Cremation Glass range creatively encapsulates a loved one or pet animal's ashes into cremation glass.
Timeless and beautiful, our Cremation Glass jewellery and keepsakes can be cherished & passed down through the generations.
By incorporating a small amount of cremation ashes into a piece of handblown or fused glass, we can create jewellery and keepsakes that can be forever treasured. We offer this service with respect, love and understanding.
We only use a small amount of cremation ashes (less than 1 level teaspoon per piece) therefore we can create mixed / matched sets for the whole family to cherish. All Cremation Glass pieces can be engraved using our in-house engraving service. We offer free UK delivery on all Cremation ashes Glass Pieces.
All our glass is Lead-Free and can therefore be held or worn next to the skin without issue.
You can view our latest Cremation Ashes Glass reviews towards the end of this page
Crafting Cremation Ashes
into Bath Aqua Glass
To create our memorial Cremation Glass keepsakes and jewellery, our Master Glassblowers take molten glass from our furnace, gently add cremation ashes and crushed coloured glass before carefully hand-shaping the glass into the required design.
Each cremation memorial glass piece is given our full attention and allowed to cool down very slowly in our digitally controlled kilns to prevent thermal cracking from occurring.
To create our Dichroic and ashes glass jewellery we layer sheets of glass around the ashes and then carefully fuse them into a single piece of sturdy, decorative glass. We then finish the design with a Sterling Silver finding.
This crafting process is very time consuming therefore your order can take a few weeks to process, depending on the colour of glass in the furnace and the number of other orders we have to fulfil. We aim for all orders to be crafted and delivered within 6 weeks.
If you have a specific deadline in mind, please contact us to confirm feasibility before ordering.
Cremation Ashes glass
ENGRAVING
For a small additional charge, we can engrave your Memorial Glass piece(s) and add a final flourish with a silver or plain finish to the text. You can also choose where the engraving is placed and the typeface. Engravings can be specified during the purchase process.
Please view our online PDF for possible font choices and images you can add.
If you would like advice on this service please do not hesitate to contact us.
Due to the size of the pieces, there is a limit to the number of characters/letters per piece:
- Cremation Ashes Glass Heart pendants, Diamond Dichroic pendants, Triangle pendants and Handheld Memorial Hearts can have up to 8 characters engraved.
- Cremation Glass Paperweights with ashes can have up to 30 characters engraved
- Dichroic Cufflinks with ashes can have up to 3 characters engraved per cufflink.
- Small Dichroic pendants can have up to 3 characters engraved.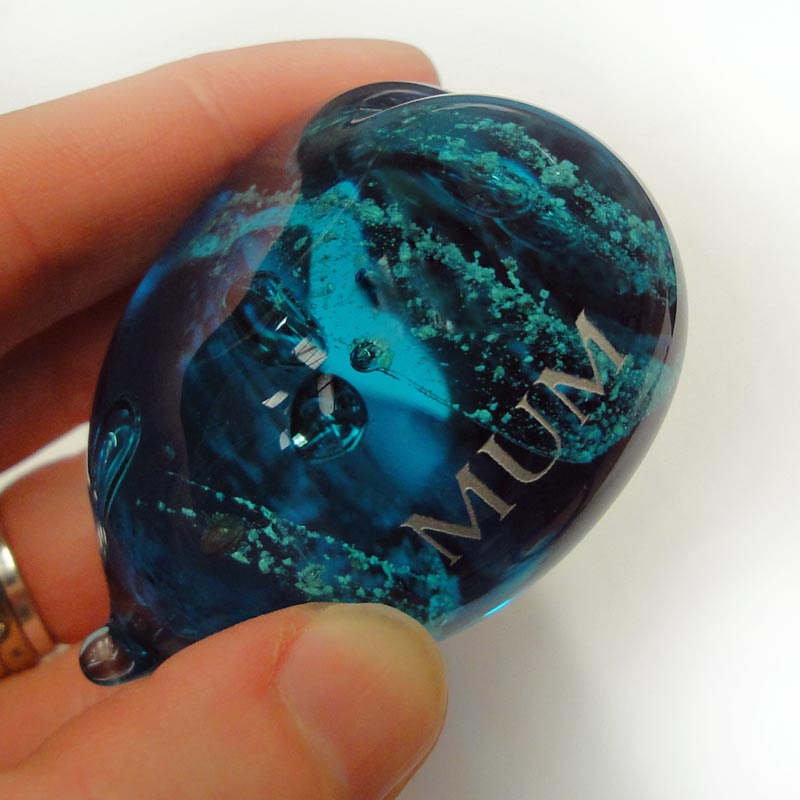 If you would like to engrave the Memorial Glass Charm, Signet Ring or Twisted Ring please contact us for a quote.
Cremation Ashes glass

ORDERING PROCESS
Orders can be placed via the following methods:
Online:
Select your desired Memorial Glass product and follow the directions on the Ordering Process tab. You can send us your ashes as soon as the order is confirmed or request that we send a bag for you to use.
In Person:
If you would like to discuss your order in person and view samples of our work, please ask for either Judith Devereux at our studio or Jamie Ruther at our shop.

To avoid disappointment, please contact us on 01225 319606 / 01225 428146 to confirm their availability before travelling.
Post / Phone:
To request a Memorial Glass order pack please fill in the form below or call us with your details. We will post you the order forms, a small plastic bag for the ashes and further information regarding product ranges and pricing. Please state the words 'Memorial Glass Order Pack' in the message body field, or call Judith Devereux on 01225 319606 / 01225 428146.
Please note, we do not accept phone orders directly as we require written confirmation of your order before proceeding.
International Orders:
We are able to accept international orders however, we do not return unused ashes. We therefore advise that you send us a minimal amount per order and please check with your postal supplier's regulations regarding cremains transport before ordering.
Ashes Courier Collection:
Due to popular demand, we now offer to collect the ashes from you using our overnight courier. If you would like to make use of this service please read the next section below carefully before ordering.
Please do not hesitate to contact us if you have further questions regarding this service.
Individual Commissions:
If you have a specific design / colour / size in mind that we do not have listed, contact us with the details. Please note that due to the nature of the materials used there are limitations on size and certain designs. Nevertheless we are happy to discuss this with you to find the ideal solution.
If you still have a query, please check our Memorial Glass FAQs, or use the contact form below.
Cremation Ashes glass
COURIER COLLECTION SERVICE
For a small additional charge we can arrange for our overnight courier to collect the ashes from you and deliver them directly to us.
If you would like advice on this service please do not hesitate to contact us.
When placing your order simply select the appropriate box(es) and complete the order. Then, when you are ready to send your ashes, contact us on 01225 319606 (Mon-Fri) to arrange a date for collection.
If you are ordering more that one product please only select collection of ashes for ONE product otherwise you will be charged for multiple collections. If you are ordering more than one of the same product please add ONE to basket with the collection fee and then go back to the product page and add the additional items without the collection fee.
If you have requested a seal top bag as well, we advise that you wait for this to arrive before contacting us.
This service is available Mon-Fri and only in the UK. However, we can collect from your place of work if this is preferred.
Please note: Not all couriers and postal services accept cremains therefore, if you are arranging your own delivery, we recommend that you check with your chosen postal supplier for the correct postage prices and terms of carriage before sending your ashes to us.
Cremation Ashes gALLERY
Cremation Ashes glass
REVIEWS