Stained Glass Courses
Learn the art of stained glass with our Master stained glass artist - Themis Mikellides.
One-to-one and group tuition available.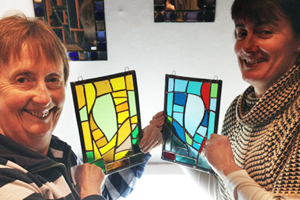 Gift vouchers for our courses make a fantastic present!
Click Here to buy vouchers online
Stained Glass Courses
FAQ
Beginners 'stained glass experience day'
Have you ever wanted to try and making a stained glass window?Would you and a friend like to express your creative side learning an ancient art? If so here is your chance. We run a one day stained glass experience day. The stained glass experience day is booked up and runs during the week on a day which is convenient to yourself. The day usually starts at 10am and runs to 5pm and during this time a stained glass piece is made. If the participant/s are slower than expected, the day can go over time to ensure that your stained glass panel/s are completed.
Advanced 'stained glass intensive'
For those of you that have had a basic training, in stained glass, we can offer specialist tuition in; contemporary and traditional stained glass design, making up working drawing, glass painting and contemporary enameling, fablon stencil making and its application and more. These stained glass techniques are tailored to your skill level.
'Make a stained glass window for your home' course
This course is usually a two to three day experience and enables you to make a stained glass window for your home. As every window is of a different size and different designs can have a different number of pieces, the length of the course will be made to suit you. Available as both one to one or tutor for two option.
During these day we talk about the nature of stained glass and the materials that are used. We will also touch on the history of stained glass over the last one thousand years including the roll of stained glass today.
What is involved in making a stained glass panel?
Have you ever wondered what goes into making a stained glass window?
We usually start the course with a morning of glass cutting, ensuring that the correct techniques are employed to master this skill. Initially we practice on float glass then progress to the antique mouth blown glass which is used in traditional stained glass windows. During the afternoon we select and cut the coloured glass. An introduction to the wizard grinder and its usage is then followed by the copper foiling of each piece. This process is particularly useful as it can hide many imperfection in the cutting. The foiled piece are then soldered together and the piece is leaded up. We then employ the manipulation of copper wire hook making where we make and solder your hooks onto the top section of your piece. The finishing touch to your piece is the blacking and polishing of the panel.
Design
We supply a stained glass design for the day that has been developed to best progress your initial entry into making. If you wish to work on your own stained glass design we recommend that you show us a copy before the day to ensure it is appropriate and achievable within one day. The piece that we make is A4 in size. If a personalized design seems unachievable in the space of a one day stained glass course we can recommend either an extra day of course or passing the project over to us where we can complete your piece as a commissioned piece.
Lunch
We usually stop around midday for a one hour lunch break. If there is time we can also visit some local stained glass, weather providing. (lunch not provided)
Course options
Option one
A one to one 'stained glass experience day', with specialist individual tuition- £200.
Option two
Tutor for two 'stained glass experience day', tuition for two people,
friend/ family etc. member- £300.
These prices are inclusive of all the materials used on the day.
Option three
'Make a stained glass window for your home' course
Price will depend on the number of days needed for the project and individual/s.
For a larger group phone Themis on (01225) 311183 to discuss the options.
Dressing for the stained glass workshop
Please ensure that you wear clothes that are appropriate as they could get scratched or dirtied
during the day. Please also tie any long hair back and no open toed shoes.
What some of our recent customers had to say about the course:
"I would like to thank you so much for the total experience on Thursday. I enjoyed the experience and learnt so much from you. You were very encouraging and patient and have the ability to impart knowledge in a firm but nonjudgemental way. I arrived feeling unsure about what I could achieve but quickly found a real interest in the hidden beauty of glass and discovered to my surprise that I could cut glass in various shapes. To see my design slowly take shape was great, and then with a lot of practical help from yourself to hold the finished stained glass picture 'Beyond Eternity' was fantastic. As you suggested I cleaned it with a shoe brush and the cotton wool buds, and then polished it with soft kitchen tissue. When I held the stained glass picture to the light it looked stunning.
Thanks so much"
Just a quick note to say how much I enjoyed my stained glass instruction day. The one to one tuition was great and you showed great patience with this complete novice! It was a really fun relaxing day, and it's fantastic to have a completely personal handmade product to home at the end of the day. It was such a perfect gift to receive for my birthday, and would recommend the day to anyone in need of flexing their creative muscles.
Thanks
Vicki
For any questions you may have or to book a course please call us on 01225 463436 or fill in the form below and we will get back to you.
Suggested reading list and inspiration for stained glass publications
Architectural Stained Glass by…Clarke, Brian
Stained Glass (ISBN: 0861340507 / 0-86134-050-7) Lee, Lawrence; Seddon, George; Stephens, Francis
Stained Glass Art of Johannes Schreiter ( Die Glasbilder Von Johannes Schreiter )
(ISBN 10: 3923974035 / ISBN 13: 9783923974030 ) Riedel, Peter, Hans Gercke, Johannes Schreiter and Others
The stained glass windows of William Morris and his circle in Hampshire and the Isle of Wight ,
David Bond, Glynis Dear, Hampshire (England). County Council
The History of Stained Glass: The Art of Light Medieval to Contemporary [Paperback] Virginia
Chieffo Raguin (Author), Mary Clerkin Higgins (Author)
English Stained Glass [Hardcover] Painton Cowen (Author)
Contemporary Stained Glass by Andrew Moor
Stained Glass at York Minster by Sarah Brown
Stained Glass in England c.1180-c.1540 [Paperback]
Royal Commission on Historical Monuments (Author)
The Complete Stained Glass Course: How to Mast... by Lynette Wrigley
Colours of Architecture: Coloured Glass in Contemporary Buildings by Andrew Moor
Architectural Glass Art… by Andrew Moor
Stained Glass For Dummies (For Dummies (Lifestyles Paperback)) by Vicki Payne
Stained Glass: Masterpieces of the Modern Era by Xavier Barral i Altet
The Journal of Stained Glass 2011 The British Society of master glass painters
The Journal of Stained Glass 2010 The British Society of master glass painters
The Journal of Stained Glass 2009 The British Society of master glass painters
The Journal of Stained Glass 2008 The British Society of master glass painters
The Journal of Stained Glass 2007 The British Society of master glass painters
The Journal of Stained Glass 2006 The British Society of master glass painters
Creative Stained Glass: Modern Designs and Simple Techniques by Christine Stevenson
Art Deco Stained Glass Pattern Book: 91 Designs for Workable Projects (Picture Archives) by Ed Sibbett
Stained Glass Basics: Techniques, Tools, Projects by Chris Rich, Rachel Ward and Martha Mitchell
Beyond Basic Stained Glass Making: Techniques and Tools to Expand Your Abilities
(Stackpole Basics) (Stackpole Beyong Basics) by Sandy Allison
40 Great Stained Glass Projects: Includes Full-Size Patterns by Michael Johnston
The Intelligent Layman's Book of Stained and Art Glass: A Unique History of Glass Design
and Making by Judith Neiswander and Caroline Swash
Art Nouveau Stained Glass Pattern Book: 104 Designs for Workable Projects (Picture Archives) by Ed Sibbett
How to Design Stained Glass (Dover Craft Books) by Jennie French
William Morris Stained Glass Colouring Book (Dover Pictorial Archives) by A. G. Smith
A Little Book of Stained Glass (Little Books Of...) by Mike Harding
Contemporary Stained Glass Artists: A Selection of Artists Worldwide by Kate Baden Fuller
Stained Glass (Discovering) by John Harries and Carola Hicks
Authentic Art Nouveau Stained Glass Designs in Full Colour (Dover Pictorial Archives) by M.J. Gradl
Patterns for Stained Glass Boxes: 34 Full-size Patterns - Step-by-step Assembly Instructions
by Randy Wardell and Judy Wardell
Arts & Crafts Stained Glass Pattern Book (Dover Pictorial Archives) by Carolyn Relei
Mandalas Stained Glass Coloring Kit (Boxed Sets/Bindups) (Arts & Crafts (Dover)) by Marty Noble
Creative Techniques for Stained Glass by Cliff Kennedy and Jane Wendling Pompilio
Stained Glass (Art of Crafts) by Vital Peeters
Medieval and Renaissance Stained Glass in the Victoria and Albert Museum by Paul Williamson
Introduction to Stained Glass: A Teaching Manual by Randy Wardell and Judy Wardell
Strangest Genius: The Stained Glass of Harry Clarke by Lucy Costigan and Michael Cullen
Stained Glass Tours in England by Charles Hitchcock Sherrill
Stained Glass Work - A text-book for students and workers in glass by C. W. Whall
Stained Glass: An Illustrated History by Sarah Brown
Stained Glass (Pitkin Guides) by Michael Archer and Ann Lockhart
Easy Victorian Florals Stained Glass Pattern Book (Dover Pictorial Archive) (Dover Pictorial Archives)
by Connie Eaton
Floral Stained Glass Lampshades: 46 Full Size Patterns (Dover Stained Glass Instruction) by Connie
Clough Eaton
Suncatchers Stained Glass Pattern Book (Dover Pictorial Archives) by Connie Eaton
Bevels and Jewels Stained Glass Pattern Book (Dover Stained Glass Instruction) by Ed Sibbet
Tiffany Windows Stained Glass Pattern Book (Dover Pictorial Archives) by Connie Eaton
Art of Light: German Renaissance Stained Glass (National Gallery Publications)
(National Gallery London) by Susan Foister
Stained Glass of the Middle Ages in England and France Stained Glass of the Middle Ages
in England and France by Hugh Arnold
The Stained Glass of a.W.N. Pugin by Stanley Shepherd
The Art of Stained Glass: Designs from 21 Top Glass Artists by Chris Paterson
162 Traditional and Contemporary Designs for Stained Glass Projects (Dover Pictorial Archive)
by Joe Wallach
Victorian Doorways Stained Glass (Dover Pictorial Archives) by Carolyn Relei
Stained Glass Window Designs of Frank Lloyd Wright (Dover Coloring Book) (Dover Coloring Books)
by Dennis Casey
Nineteenth Century Norfolk Stained Glass by Birkin Haward
An Introduction to English Stained Glass by Michael Archer
Stained Glass in England (Sutton History Paperbacks) by June Osborne
Making Stained Glass Panels: Complete with Full-Size Patterns (Pottery Ceramics Glass Crafts)
by Michael Johnston
Stained Glass Societies
For contemporary stained glass check out the CGS- Contemporary Glass Society
For a more traditional approach to stained glass windows, see the BSMGP- The British Society
of Master Glass Painters