Medieval Stained Glass and Glass Blowing Course in Bath
Experience making stained glass out of hand blown roundels, the original window glass.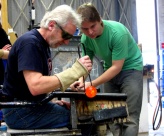 During this course you will create a stained glass window totally out of handmade roundel glass as it was made during Medieval times before sheet glass was developed. Roundels were the original window glass and were made by the glass blowers and then cut and leaded into stained glass panels. As part of the course you will help make a decorative roundel with our master glass blowers, a truly hands on experience. This will give you a flavour of how the glass roundels were originally made. This roundel will be a decorative hanging for you to keep in addition to the stained glass piece you will create. At Bath Aqua Glass we offer this complete experience.
Course Itinerary
Day 1
Half of the students will blow their roundels with the glass blowers in the morning.
The other half will start working on a design.
The two parties will change over for the am and pm activities.
Day 2
All parties will work to finish their panels under the guidance of the stained glass artists.
This is a two day glass course the price is £335 inclusive of all materials.
This is an intermediate level course, you need to have previous experience cutting and leading glass. If not you may like to attend one of our beginners level stained glass courses first. Click here for further information or call Themis on 01225 463436.
This is very specialist and will be taken by either Mac McHugh or Themis Mikellides both have many years of experience in stained glass and studied their MA's in Wales.
Please contact Themis Mikellides on 01225 311183 for course dates and availability.
Please note we need minimum numbers in order to run the course, if the minimum places are not booked we reserve the right to cancel and reschedule the course date.
Roundel glass sometimes known as crown glass is made by taking a gather of glass from the furnace if you want to decorate it you then roll it in your chosen glass colour on the marver, then re-heat it in the glory hole, blow and open the end, the other glass blower then gathers a punty, which is Latin for bridge you need to take it off the other blowing iron as though it was a bowl, once it is transferred it is then professionally spun into a beautiful roundel. As picture above. Mac or Themis will give you lots of historical facts about the history of stained glass.
There is evidence that the Romans manufactured and used glass in Britain dating back to the first century AD and while most of this was used primarily for the production of ornate vessels, mosaic tiles and window glass were also produced. The first known use of window glass coincided with the introduction of Christianity and the construction of churches and monasteries. Most of the window glass that was found, which amounted to hundreds of fragments, was coloured and had created pictures to tell stories of the bible.
Windows in the UK started appearing as they are today in the mid to late 17th century it was at that time in 1696 William III introduce the window tax, you can still see blocked up windows which have not been reverted to windows, this were put in place to avoid the tax. This was away to raise revenue based on the number of windows in a property relative to the prosperity of the taxpayer, the bigger the house, the more windows it was likely to have, and the more tax the occupants would pay. The tax was eventually repealed in 1851 to be replaced by a system of rates which we still have today.
Other Stained Glass Courses Also Available:
Beginners 'Stained Glass Experience Day'
Have you ever wanted to try and making a stained glass window? Would you and a friend like to express your creative side learning an ancient art? If so here is your chance. We run a one day stained glass experience day. The stained glass experience day runs during the week on a day which is convenient to yourself. The day usually starts at 10am and runs to 5pm and during this time a stained glass piece is made. Call Themis to book beginners course 07823321660 or fill in form below FAO Themis.