Queen's Diamond Jubilee
Celebrate the Queen's Diamond Jubilee with our commemorative Bath Aqua Glass paperweight.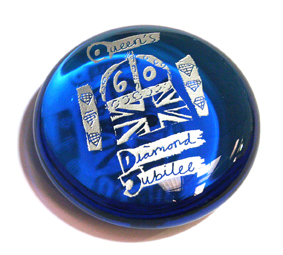 Handmade by the Bath Aqua Glassblowers in Walcot st, Bath each one is unique and engraved with the official emblem for the Jubilee.
The winning emblem design was chosen following a national Blue Peter competition for children aged between 6 and 14. It was drawn by 10 year old Katherine Dewar from Chester.
Each paperweight comes boxed complete with a certificate of authenticity.
£35+ p&p click here to order online